BEGINNER LEVEL 2 (HIGH):
EUROPEAN PORTUGUESE LANGUAGE CLASS FOR ADULTS
Please read all content on this page prior to registering.
This Beginner Level 2 class on Thursday nights is for those with some basic knowledge of the Portuguese language. You might be able to speak and understand some common words, phrases, and expressions. However, you are not fluent and most likely can't fully follow conversations in Portuguese.
In this 10-week course, you will increase your vocabulary and learn proper grammar. You will meet for two hours once a week in a small classroom setting with approximately 10 students. The course will be delivered and taught by a qualified and experienced teacher whose mother tongue is European Portuguese.
*Important note: This class is a continuation of our previous session and if you are a returning student, then you will build upon your vocabulary and improve your pronunciation and grammar. If you are a new student with some basic knowledge of Portuguese, then this is the right level for you.  It is a higher Level 2 than the Tuesday night class as this group is further along in the textbook. If you're not sure which class to choose, then take our Self-Assessment Test.
You will focus on Units 14 to 18 of the textbook, "Passaporte para Português A1/A2," which is recommended by the Camões Institute of Cooperation and Language.  You will learn and practice familiar everyday expressions and grammar foundations such as:
Talk about daily and weekly routines
Talk about eating habits and lifestyles
Fill out a questionnaire
Read a menu and order food at a restaurant
Make comparisons and express preferences
Verbs: "dormir," "beber," "pôr," "saber," "poder," "querer," "haver," "estar," "conhecer," "preferir," and reflexive verbs
Prepositions of time and motion: "a," "para," "em," "de," and "durante"
Prepositions of place: "ao lado de," "debaixo de," "em cima de," "em frente de," "atrás de," "dentro de," and "entre"
Frequency Adverbs: "sempre," frequentement," "às vezes," "raramente," "quase nunca," and "nunca"
Adjectives: "todo" and "algum"
Contractions: "de," "em," and "a"
Comparatives and Superlatives
Build Vocabulary
And more!
*Please note:  The official syllabus will be provided on the first day of classes.
This course is taught in both Portuguese and English.  Each session will offer you the chance to speak in Portuguese in an open and welcoming environment.  You will also have the opportunity to develop your listening, reading, and writing skills with an emphasis on the functional and practical use of the language. Each week you will partake in lessons and activities that reinforce vocabulary and grammar structures.
Space is limited, so don't wait. Reserve your seat today.
FEE: $270 + GST
WHEN: THURSDAYS
Start Date: Thursday, October 10th, 2019
End Date: Tuesday, December 10th, 2019*
Time: 7:00 pm to 9:00 pm
*Note: Although the class is held every Thursday, there will be no class on December 12th, 2019. The make-up class will be held on Tuesday, December 10th, 2019.
LOCATION: PORTUGUESE CULTURAL CENTRE
TEACHER: SANDY GUALDINO
TEXTBOOK: $50+
TERMS & CONDITIONS:
REGISTRATION & PAYMENT:
To reserve your seat, fill out this form and make a payment of $270 + GST.
To complete the registration process, you must click submit and make your payment. By clicking on submit, you agree to Portugal in Vancouver's Terms and Conditions. After you click submit it will take you to PayPal where you can make your payment and complete the registration process. If payment is not made, then you will not be registered for the class.
After you click the submit button above, it will take you to PayPal to make your payment and complete the registration process. The PayPal window will look something like this: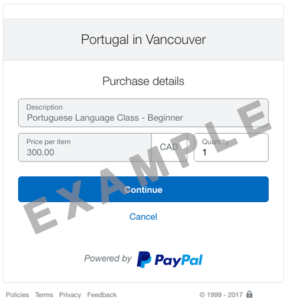 After you click continue, it will take you to the PayPal login window. If you don't have a PayPal account, that is okay. PayPal accepts credit cards. Just click on the "Pay with Credit Card or Visa Debit card" at the bottom of the screen as shown in the example below: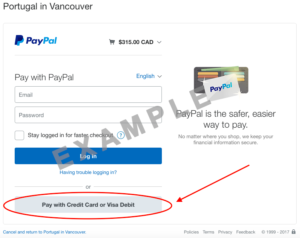 Space is limited, so don't wait. Reserve your seat today.
WAITLIST
If the class is full, add yourself to our waitlist. To do so, you can either click on the "Continue Shopping" button in Paypal and it will take you to the waitlist form or you can fill out the form below.